Event Day setup for the Chicago Bicentenary event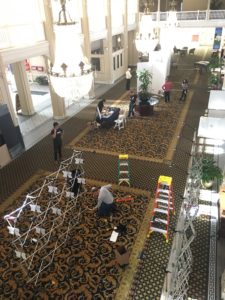 In part 1 of this series I highlighted a little bit about the planning process for the Bicentenary. Now, I will review the actual setup of the event.
We arrived at the venue (The South Shore Cultural Center, located on Chicago's South Side by Lake Michigan) at around noon on Saturday, October 21. We had asked a number of people to come help as the setup crew, and there were 4 different areas to set up: the foyer with the art displays and the display about Baha'u'llah, the family activity room, the special reception room, and the theater, where the main program was taking place. We needed every minute of our setup time! We had to be ready to go at 5 pm for the first wave of attendees. The most complicated part of the setup was the beautiful reusable display that Robert Reddy designed and fabricated, which had lighting and multimedia portions.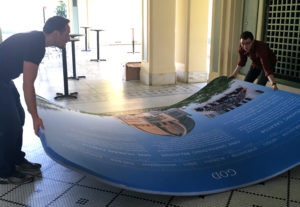 We borrowed some items from the Baha'i National Center, and were especially grateful for some talented people who were able to jump in at the last minute to set up displays, run to the store, and take care of little details that the task force members did not have time to do.  I wish I had spent more time documenting the setup, because it was really incredible, but I was running from one end of this very large building to another, responding to questions and running through the show flow.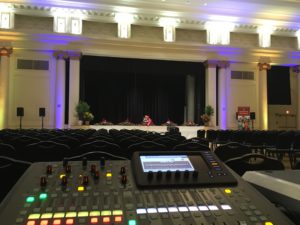 The main stage room needed the least amount of setup outside of the audiovisual needs, as it was already a beautiful space. Luckily we had a professional AV team from Meeting Tomorrow (which is where I work for my day job!), and they were incredible. We had a lot of needs, particularly with all the singing and mic switching, and they handled it smoothly and got through rehearsals with the performers with very little guidance from our team.
"Wert thou to consider this world, and realize how fleeting are the things that pertain unto it, thou wouldst choose to tread no path except the path of service to the Cause of thy Lord. None would have the power to deter thee from celebrating His praise, though all men should arise to oppose thee." -Bahá'u'lláh, Gleanings from the Writings of Bahá'u'lláh