The Bicentenary Event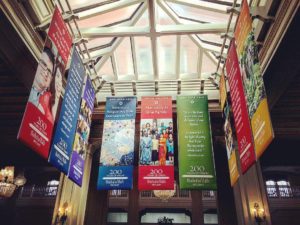 We started at 5 pm on October 21 with a special reception for our friends and partners in the wider community. At 6 pm the doors opened for everyone, and people were greeted with a chocolate in the shape of a globe and incredible banners hanging from the ceiling and balconies, and they were encouraged to explore the family activity room, the art display, the display about the Baha'i Faith, and listen to Second Nature Jazz Quintet, as well as enjoy refreshments and take photos in the photo booth. We hired a local photo booth company from Hyde Park, and they did a great job. People really seemed to enjoy the live jazz…we had to have jazz music in Chicago!
At 7:30 pm, everyone was invited to the theater for the main stage performances. The decision was made to focus on the arts and on our relationships with various performers that we know through our work in the community. Many of our performers were not Baha'is, and it was wonderful to see these talented individuals participating in our event.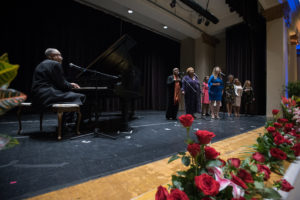 Our performers included Van Gilmer (composer, vocalist, and choir director at the Baha'i House of Worship, joined by a few friends on the day of the performance!), Emily Price (mezzo-soprano who sings with Chicago a cappella, the Lyric Opera Chorus, and Grant Park Music Festival Chorus), Shki-Bmaadzi, Deeply Rooted Dance Theater, and Tsukasa Taiko.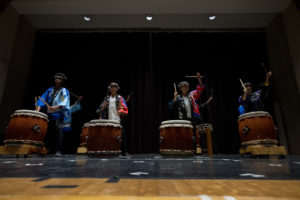 I was doing stage management during the event, so I saw all of the performances from the side of the stage, and they all did a fantastic job. Our hosts for the evening were the Taylor family, and we had so many volunteers making sure the lights worked (thanks Leslie!), that people got a seat, and that those with accessibility needs were accommodated fully.
A year of work culminated in a spectacular event and I am so grateful that I had the opportunity to participate in it.
Part 1 and Part 2 of the series.