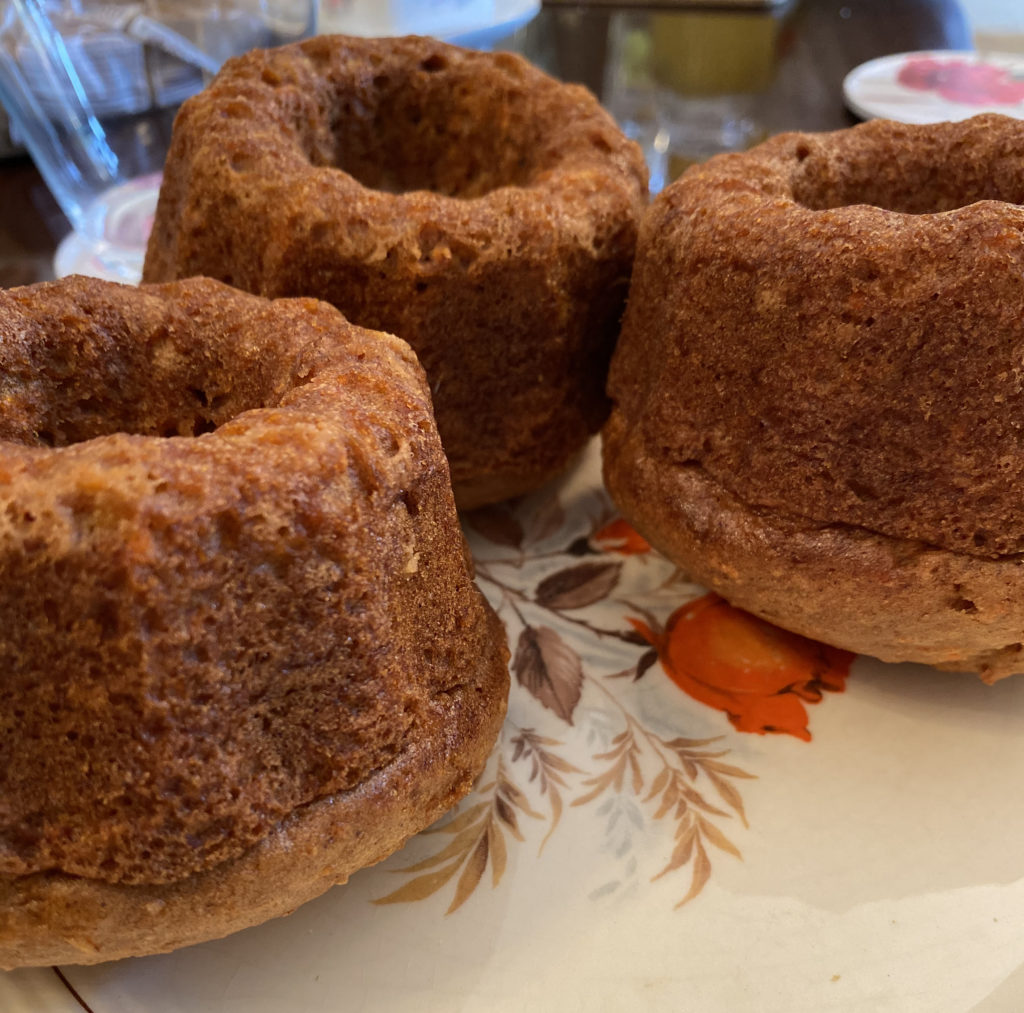 A while back I wanted to make carrot cake and found this awesome recipe from Williams Sonoma. However, I needed to make some changes to it and after a certain point it stopped being the same recipe. So I'm putting it here on my blog for those of you who have tried this delicious cake and wanted to replicate it at home. I made these in mini Bundt pans but you can really use any pan you like.
A few helpful notes:
-Use a food processor to chop up the raw carrots or apples after peeling them. It is WAY easier. With apples, be careful to do only a few slices at a time, as they can get mushy and make the cake too soft at the bottom.
-If you don't have buttermilk, you can add a teaspoon of vinegar or just use regular milk. I've not seen a huge difference either way!
-I add 1/2 cup chopped walnuts to the carrot cake only.
-This recipe makes a pretty big cake. If you want, you can cut it in half pretty easily.
-You may not need frosting for this cake. When just making it for myself, I didn't use it. Especially for the apple cake.
-Sometimes I'm too lazy to bring out my mixer. You don't need one, but it does make it a little easier.
Ingredients:
For the cake:
2 cups gluten free flour (King Arthur/Bob's Red Mill/Pillsbury – whatever you have!)
2 tsp. baking soda
2 tsp. baking powder
2 tsp. ground cinnamon
1/2 tsp. salt
4 eggs
3/4 cup vegetable oil
3/4 cup granulated sugar
1 cup firmly packed brown sugar
1/2 cup buttermilk
3 cups lightly packed peeled, shredded carrots (or apples)
For the cream cheese frosting:
1 lb. cream cheese, at room temperature
6 Tbs. (3/4 stick) unsalted butter, at
room temperature
1 1/4 cups confectioners sugar
1 1/2 tsp. vanilla extract
Directions:
Position a rack in the middle of an oven and preheat to 350°F. Spray 2 round cake pans each 9 inches in diameter and 2 inches deep with vegetable oil. (Or any pan you want to use)
In a medium bowl, mix the flour, baking soda, baking powder, cinnamon, salt. In a large bowl, whisk together the eggs, vegetable oil, granulated sugar, brown sugar and buttermilk until blended.
Stir the flour mixture into the egg mixture just until combined. Fold in the carrots/apples. Add walnuts if using them. Divide the batter evenly between the prepared pans.
Bake until a toothpick inserted into the centers comes out clean, about 40 minutes. Transfer to racks and let cool in the pans for 15 minutes. Invert the cakes onto the racks and let cool completely.
Meanwhile, make the cream cheese frosting: In a large bowl, combine the cream cheese and butter. Using an electric mixer set on medium-high speed, beat until smooth. Reduce the speed to low, add the confectioners' sugar and beat until smooth. Beat in the vanilla extract until well blended.
Place 1 cake layer on a plate. Spread 1 1/2 cups of the frosting over the top. Place the second cake layer on top. Spread the remaining frosting decoratively over the top and sides of the cake.
Serve immediately, or cover with a cake dome and refrigerate for up to 2 days. Bring to room temperature before serving.
---
½ recipe (one 9" round pan)
1 cup gluten free flour
1 tsp. baking soda
1 tsp. baking powder
1 tsp. ground cinnamon
1/4 tsp. salt
2 eggs
1/4 cup plus 2 tbsp vegetable oil
1/4 cup plus 2 tbsp granulated sugar
1/2 cup firmly packed brown sugar
1/4 cup buttermilk
1 1/2 cups lightly packed peeled, shredded carrots (or apples)
½ recipe for the cream cheese frosting:
8 oz cream cheese, at room temperature
3 tbsp unsalted butter, at room temperature
3/4 cup confectioners sugar
3/4 tsp. vanilla extract