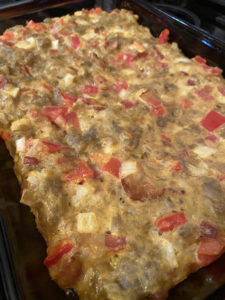 It looks a little strange in the photo (and I took it before adding the cheese on top), but this is a great meal to prep for the week. It's also possible to make it vegetarian by removing the sausage/bacon.
Ingredients:
-Package of frozen hash browns (I like Ore Ida because they're gluten-free) OR grate 2 large, peeled potatoes.
-1 large tomato, diced
-1 small onion, diced
-5 eggs, beaten in a bowl
-Shredded cheese (any flavor you like!)
-Tube of sausage or package of bacon
-Optional: 1/4 cup gluten free flour
-Salt, pepper, hot sauce, ketchup, sour cream…whatever you use

Instructions:
Preheat oven to 375 F. On stove in a large pan, cook the sausage/bacon (or make the bacon in the oven until mostly cooked), ensuring that it's broken up into small pieces.
While it is cooking, dice/chop the rest of your ingredients and combine in a large bowl and ensure it is thoroughly mixed. Spray a pyrex cooking dish (9×11 is a good size) with vegetable oil.
Once the meat is cooked, chop into small pieces and mix into the bowl with all ingredients. Then pour the whole mixture and place in the oven for 45 minutes.
When it is finished baking, top with your favorite toppings and eat. You can store in the fridge and warm it up as needed.