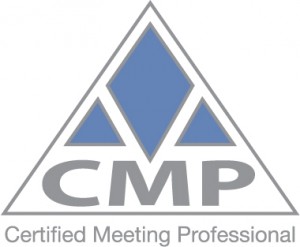 Last Wednesday was a bit nerve-wracking for me. I took my CMP (Certified Meeting Planner) exam and found out right away that I passed! Within a few hours, something that I had been trying to do for years was over.
I started the process of preparing to take the exam in January of 2012 by registering for a class at Harper College from March-May 2012, which I passed. Then life took over and I was far too busy to think about studying for the EXAM.
There are at least 2 things that you must have to qualify for the CMP test (there are other options but this is what I qualified for):
-At least 36 months of working in the event industry & current or recent work in events.
-Completion of 25 clock hours of industry-related continuing education within the past five years.
From the Convention Industry Council website:
"…the CMP credential is recognized globally as the badge of excellence in the meeting, convention, exhibition, and event industry. The qualifications for certification are based on professional experience, education, and a rigorous exam."
I studied the official materials for a few months this spring, and that, combined with the last 7 years of working in events, enabled me to pass the test. Just the things that I have learned in the last 8 months at my current job have been enormously valuable. When you are surrounded by 60 other event planners on a daily basis, you have no choice but to learn!