I had the opportunity to volunteer at the 4th Annual Baha'i Choral Music Festival in May. It was wonderful to see so many people at the House of Worship. I was manning the main entrance for both performances, so I got to see everyone.
A number of my dear friends went on the Voices of Baha tour in India in June. Imagine 120 singers from around the world, traveling around India in the heat of summer just to sing! Seeing the photos and video made me wish I was with them.
I purchased my copy of The Baha'i Gardens by my friend Marco Abrar a few weeks ago, and received a copy of this gorgeous book soon after. It is a coffee table book that I think everyone should have. It has beautiful photos of the Baha'i Holy Places in Haifa & Akka, Israel, and it nearly brought tears to my eyes as I looked through the pages and remembered my time there.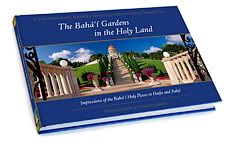 Speaking of photobooks, you should definitely pre-order Hasten Forth, a photobook that takes you on a journey of Haifa and Akka, by my Haifa companions (and lovely friends) Ginous Alford and Anis Mungapen.  I can't WAIT until my copy arrives!