O army of God! Beware lest ye harm any soul, or make any heart to sorrow; lest ye wound any man with your words, be he known to you or a stranger, be he friend or foe. Pray ye for all; ask ye that all be blessed, all be forgiven. Beware, beware, lest any of you seek vengeance, even against one who is thirsting for your blood. Beware, beware, lest ye offend the feelings of another, even though he be an evil-doer, and he wish you ill. Look ye not upon the creatures, turn ye to their Creator. See ye not the never-yielding people, see but the Lord of Hosts. Gaze ye not down upon the dust, gaze upward at the shining sun, which hath caused every patch of darksome earth to glow with light.
O army of God! When calamity striketh, be ye patient and composed. However afflictive your sufferings may be, stay ye undisturbed, and with perfect confidence in the abounding grace of God, brave ye the tempest of tribulations and fiery ordeals.

– Abdu'l-Baha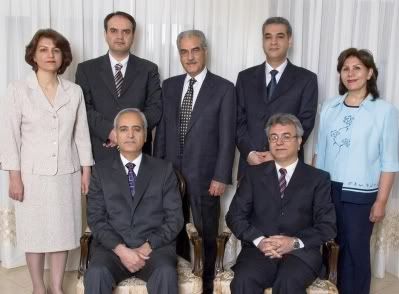 The seven Baha'is that have been in prison for over a year are supposed to go on trial in Iran in a few short hours.  Pray for their safe return to their families and a stop to the persecution of Baha'is in Iran.
A few recent articles on the subject:
Reports of a trial date for Baha'i leaders falsely accused of espionage
Roxana Saberi and USCIRF Call for Release of Iranian Baha'is
CNN: U.S. panel demands release of Baha'is facing trial in Iran
Times Online: It is not just democracy that is illegal in Iran-Cherie Blair