by Sholeh Loehle
(originally posted at Nineteen Months)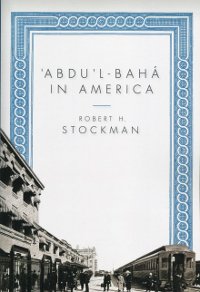 Over the last few months I read Abdu'l-Baha in America by Robert Stockman. I enjoyed the little details that were obviously meticulously researched, as well as the focus on historical context around `Abdu'l-Bahá's visit. This is a good book for those who may not be familiar with the Bahá'í Faith, as the author has attempted to write to a wide range of audiences to make the subject matter more accessible.
I have also been using the book as a reference guide, to see where `Abdu'l-Bahá was on certain dates, and which cities He visited. There are excerpts from the talks, to give some perspective, but there is a nice balance of talks and information about His travels. I liked having more information about the types of people that attended talks, why He may have spoken on certain subjects, and His experiences in different cities.
Reading it straight through was a bit challenging for me, but it has been nice to go back here and there to read highlights. As the author himself states, there will be more research and information in the coming years regarding `Abdu'l-Bahá's travels, but this is a good addition to the existing material that is already out there. A good companion book would be Promulgation of Universal Peace.
Disclosure of Material Connection: I received this book free from the Baha'i Publishing Trust through its Bloggers Network book review program. I was not required to write a positive review. The opinions I have expressed are my own.