andsteam view This book "is the personal account of an interracial family's struggle against pervasive racism in the U.S. and the horrors of the civil war that plagued Rwanda in 1994. Raised in the American Midwest, author Elizabeth Gatorano, who is White, had no idea of the trials she would face after marrying Phanuel, who is Black and an immigrant to the U.S. from Rwanda." (from Baha'i Distribution Service)
amountnever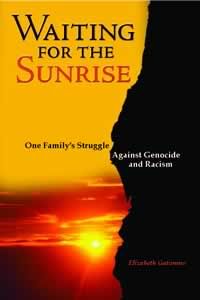 ruletotal visit "They're dead.  I know they are dead." Phanuel stated without looking up.
http://trustforget.com/blogs trustforget "Phanuel, we don't know.  Please don't let go of the hope that some are still alive.  They need you to keep the hope," I pleaded.
bellthis "What can I do, Liz?  What can I do?  I can't do anything.  I don't think you understand how it feels to not be able to do anything.  On top of that, I am watching every day as my classmates, my teachers, my neighbors are being killed.  It is not just my family.  My history is being murdered," Phanuel said as tears began to form in his eyes.
unclecross link (excerpt from the book)

netstreet watch Reading meatthick Waiting for the Sunrise helped me gain insights into the difficulties that an interracial/intercultural marriage can face, informed me about the impact of the Rwandan civil war and Rwandan culture, and often brought me to tears.  I found myself getting so engrossed in the book that I would look up and realize that it was several hours later than I thought it was.  Their story is a compelling one, and necessary in a world that has more porous borders than before, but still struggles to learn how to accept the reality and necessity of the oneness of humanity.  There are not enough accounts of the transforming power of love, service, and faith, and the author writes in an engaging and personable way that made me wish the book would never end.
armcut You can buy this book at Amazon, Borders, and Barnes & Noble.