First of all, let me point out that Culver's Chocolate Raspberry custard is all kinds of delicious. Real raspberries. Oh my.
Again, thanks to the intrepid Adam L, we have…(drumroll please)
MEATCAKE!!
Yes, cake make out of meat, mashed potatoes, and ketchup. I am strongly tempted to make it, just to say I have.
Speaking of trying new things, I got a chance to sample some beef tongue at Nuevo Leon the other night after Feast (a group of us went out). It just tasted like overly tender beef, except that Myk kept saying things like, "You know the tastebuds are still on that." and "I don't eat anything that can taste me back."
I go through snack addictions…make up something quick, live on it for a few weeks. My current obsession is:
+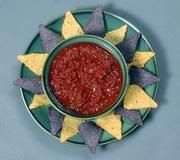 +

sour cream
a few spoonfuls of salsa
black olives, sliced
Eaten with corn chips, of course. The sour cream is the base of the mix. mmm.