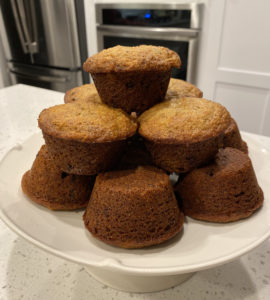 These chocolate chip banana muffins are a huge hit in our home. We always make the full batch because we work through them quickly. They stay really tasty for several days, which some GF muffins can't do. Enjoy and let me know if you end up making them.
Ingredients:
6 mashed bananas
3 eggs
3/4 cup melted butter
2 3/4 cup flour (use regular flour or GF 1:1 blend of your choice)
3/4 cup sugar
2 1/2 tsp baking soda
1 tsp salt
1 cup mini chocolate chips
1 cup chopped walnuts (optional)
Note: This recipe makes 3 dozen muffins, so plan accordingly. You can freeze them to eat later, or you could look below for an ingredient list that only makes 1 dozen.
Preheat oven to 350 F.
Line muffin tin with baking cups. I'm very happy with my silicone baking cups – they're reusable, dishwasher safe, and the muffins pop out easily.
In a large bowl: combine all ingredients and mix.
Add chocolate chips and walnuts last to the batter.
Spoon into muffin cups. I filled them almost all the way, as they don't rise significantly.
Bake for 22 minutes, until cooked all the way through.
Ingredients for ONE DOZEN muffins:
1 egg
1 1/3 cup flour (use regular flour or GF 1:1 blend of your choice)
2 mashed bananas
1/4 cup sugar
3/4 tsp baking soda
1/4 cup melted butter
1/4 tsp salt
1/3 cup mini chocolate chips
1/3 cup chopped walnuts (optional)